UTV Utility Rack
Rear Utility Rack Multi-Fit
Model # UVUR10-MF 
(universal rack that replaces the earlier models UVUR1 thru UVUR7)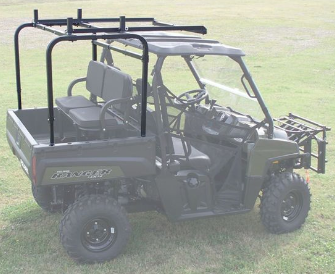 ---
Great Day's UTV Utility Rack adds an extra dimension of usefulness to a side-by-side, off-road vehicle. The Utility Rack mounts to the UTV bed and provides an extension of the UTV's cab frame—providing the perfect place to transport bulky, but light-weight equipment or materials. The Utility Rack is ideal for hauling canoes, kayaks, ladders or miscellaneous materials.
The Utility Rack is constructed of 1 ½ inch aircraft aluminum and weighs only lbs. It can be assembled in just minutes with regular hand tools and installs easily to the bed rails of the UTV. Comes complete with two guide-rail posts with eye-bolt tie-downs mounted at the top of the rear frame and also includes two cinching straps. The Utility Rack is rated for loads weighing up to 100 lbs.
The Utility Rack is not attached to the frame of the UTV cab; therefore, the bed tilt mechanism is functional when there is no load on the Utility Rack.
To determine the Utility Rack model numbers for different UTV's, check the chart below:
NOTE: This rack, the UVUR10-MF Rear Utility Rack Multi-Fit, is a universal rack that replaces the earlier models UVUR1-UVUR7
WARNING---Never exceed the stated weight limit when using this product.
WARNING---Never allow a person to climb or ride on the Utility Rack.
WARNING---Always be sure any equipment, materials or load of any kind are totally secured before transporting
NOTE: Modification and/or drilling to the vehicle may be necessary for installation.
Made with pride in the USA!